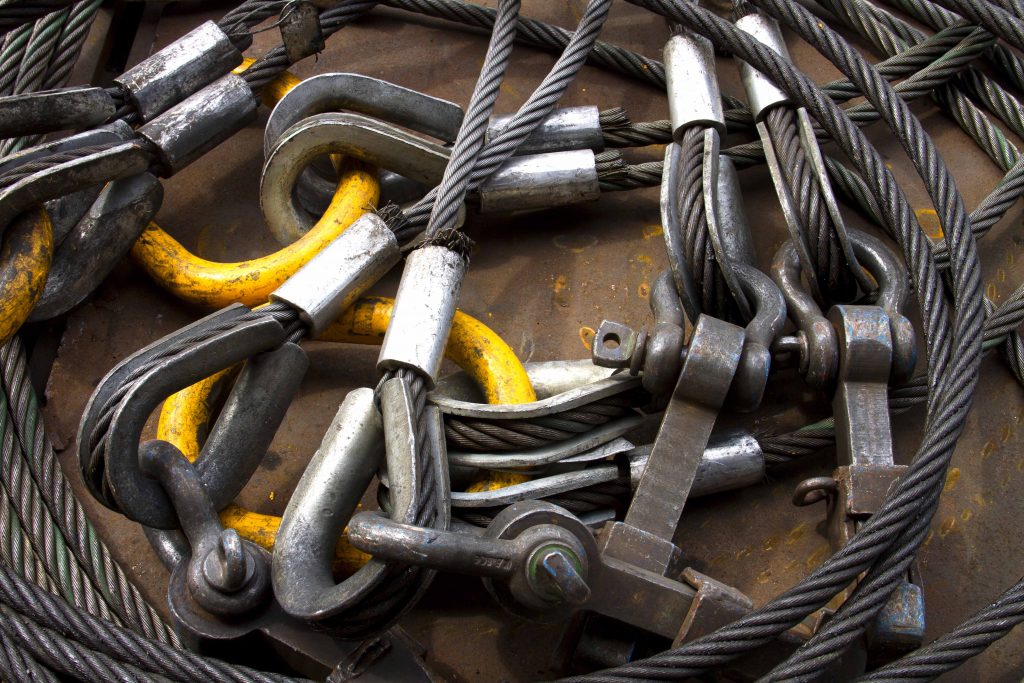 A wire rope is only as strong as the end fitting. For that reason, Rasmussen Equipment doesn't just sell high-quality wire ropes. We also offer rugged wire rope fittings that can handle the torque of logging, excavating or anything else that you can throw at them.
Our wire rope end fittings come in a large variety of sizes and materials. No matter which industry you work in, we have a wire rope end that will work for you. Below is a more detailed look at some of the wire rope hardware that we offer.
What Are Wire Rope Fittings?
As the name suggests, these fittings are designed to go on the end of steel wire rope and cables. Their purpose is to make it easy to attach wire rope together or to equipment and heavy loads. Wire rope end fittings not only come in a variety of sizes and styles but also various load capacities.
It's important to ensure that you use a fitting that's rated to withstand the load capacity of the steel rope that you attach to it. The load capacity of your rig is only as strong as its weakest component. Even if you use tough stainless steel wire, you won't get its max load capacity if the wire rope end has a lower capacity.
Wire Rope Swage Fittings
Wire rope swage fittings are unique compared to other wire rope clips. These components work by compressing or swaging the end of the wire so that the fittings can be attached. If a rope is swaged properly, then it's possible for the fittings to hold 100% of the load capacity of the wire. In general, wire rope swage fittings are perfect when you need to get the maximum load capacity out of your rig.
Wire Rope Compression Fittings
Wire rope compression fittings or sleeves work a lot like swage fittings. In fact, they can hold the same load capacity that the steel wire is rated for. However, compression sleeves differ in that they create a loop in the wire rope, which you can use to hook onto equipment or heavy loads.
The way that a compression sleeve works is simple. It has two holes, and one end of the steel rope is pushed through the fitting. Then, the same end loops around and goes into the other hole to create the loop. If properly installed, the result is a strong, permanent loop.
Button Stops
Button stops are among some of the most popular wire fittings available. Most of them have a single wire hole and are cylindrical in shape. They usually include a chamfer at one end to make installation easier. The stops themselves have a bearing at one end of the assembly, which prevents wires from fraying. For this reason, these stops may be installed at the midway point of a long cable too.
Several materials and coatings can be applied to button stops. Some of the most common are:
Aluminum
Plated steel
Copper
Carbon steel
Stainless steel
The copper and aluminum stops are typically smaller in size than the carbon or steel versions. As a result, aluminum and copper stops are typically weaker than their steel counterparts. Because of that, they might not be the best choice for thick, galvanized wire rope. Despite this, button stops are a great choice in terms of rigging hardware.
Shank Hooks
Shank hooks are a hybrid of two different rope fittings. One is a traditional rope hook, and the other is a swage fitting. The benefit over other rope fittings, such as the compression fitting, is that you don't have to form a hook in order to attach the rope to something. Instead, you can use the built-in hook.
Buy Wire Rope Fittings from Rasmussen Equipment
If you're looking for steel rope clips and fittings, look no further than Rasmussen Equipment. We offer high-quality wire rope end fittings that you can count on to get the job done. All of our ropes and wire rope assembly fittings are annually certified by our pull-testing machine. This ensures that all of the products we sell are guaranteed to work.
Don't waste your time buying wire rope compression fittings or open swage sockets from providers that you can't trust. Buy from Rasmussen Equipment. To learn more about all the rope hardware that we offer, reach out to our friendly sales representatives at (801) 972-5588.