The Thawzall TCH250 is a breakthrough in ground heating technology. With the patented HEATZONE® fluid distribution technology the TCH250 delivers improved capability and superior ground thawing, frost prevention, concrete curing and heat for any job. This unit produces 250 MBH of heat with unmatched uniformity through 5 separate 600' zones. This is simply the best hydronic heater on the market; it thaws more quickly, cures more evenly, and saves a minimum of 24 gallons of fuel per day over the closest competitor. Contact a Rasmussen Equipment representative to rent or purchase one of these units.
Makes & Models

day

week

month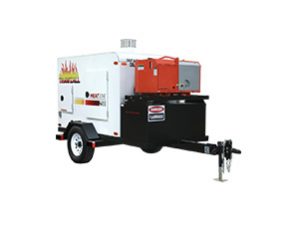 THAWZALL TCH250 W/ Generator
Class: 3000' HOSE
details
FUNCTION AND DESIGN IMPROVEMENTS
Better flow and heat transfer with newly designed "series flow pattern"
Ease-of-use and newly designed Control box on rear passenger side

Easier operator interface with all controls in one place
Easy OFF-ON switch eliminates need for training
More accurate cold weather concrete curing with simple temperature setting
Alert for fuel gauge and low water for quick trouble shooting

Faster thawing due to flow is increases from larger sized and shorter piping
New Power-In-Power-out and free-wheeling feature for reel operation with dynamic brake
DIMENSIONS & CAPACITIES
L x W x H
170in x 84in x 97in
Weight w/fuel & fluid
5,600lbs
Optional Generator
310lbs
Fuel Capacity
160gal
HTF (Heat Transfer Fluid)
122gal
SPECIFICATIONS
One – 1/2 hp Pump
Closed Loop Centrifugal
Hose Length (5 zones x 600')
3,000ft
Electrical, GFI
20 amp x 120 vac
HTF Pumpability
-80°F
Fuel
Winter blend diesel or #1 fuel oil
Hitch Choices
Forged, Stamped, or Pintle
Diesel Generator
7.0 KWH Liquid Cooled
PERFORMANCE
THAW frozen ground
3,000-6,000 sq ft
CURE concrete
6,000 sq ft
with accessories
18,000 sq ft max
FROST prevention
9,000 sq ft
with accessories
27,000 sq ft max
HEAT buildings
400,000 cu ft
Input/Output
280/234 MBH*
Operating Range
70-200°F
Operating Pressure
1-5 psi
Fuel Consumption (max)
1.75 gph
Run Time
3+ days
Pump Capacity
30/1800 gpm/gph
Rental Rates Based On
8 hours day
40 hours week
176 hour calendar month
ADDITIONAL USAGE WILL INCUR OVERTIME CHARGES
Double Shift Rate = Standard Rate X 1.75
Triple Shift Rate = Standard Rate X 2.50
Prices Subject to Change Without Notice
All Rentals Qualify for Equity Builder Program
Rental Terms & Conditions
All rentals are subject to credit approval.
Rental rates are based on a single shift 8 hour day, 40 hour week and 176 hour month.
Double shifts are at 1.75 the single rate, triple shifts are bill at 2.50 the single shift rate.
Customers are responsible for all consumables such as; fuel, lubricants, filters, ground engaging tools (teeth, cutting edges, breaker chisels, etc), tire wear.
Customer shall maintain the machine by performing the prescribed daily machine inspections and maintenance.
Customer is required to carry adequate Physical Damage and Liability Insurance listing Rasmussen Equipment Company as additional insured. Certificate of Insurance must be on file at Rasmussen Equipment Company.
Customer is expected to use the machine in safe manner. Customer shall provide qualified operators who are trained in proper operating procedures. The customer must also ensure that the machine's safety features such as back-up alarms, ROPS, etc., remain in proper operating condition while in customers possession.
Customer is responsible for excessive wear or damage to machine such as broken glass, lights, bent or dented sheet metal, cylinders, tires, operation instruments, etc.
Rental rates do not include any applicable taxes or permits.
Customer responsible for all transportation charges. FOB Salt Lake City.