Every job has specific requirements and sometimes a bulky piece of equipment is not the best solution. Mini excavators are rugged, flexible machines that can work effectively in the extremely tight spaces that other bulkier excavators simply can't reach. These versatile machines are ideal for use in residential construction, landscaping, utility work and a variety of other technical projects.
Makes & Models

day

week

month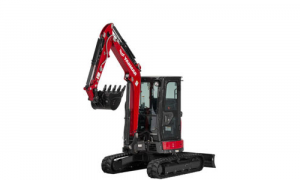 YANMAR VIO35 w/ Thumb
Class: 8,214 LBS
details
Powerful, efficient, electronically controlled 24.4 hp tier 4 diesel engine
Eco & Auto deceleration mode
Joystick pilot controls with control pattern change
Auxiliary hydraulics w/ proportional control
2-speed drive control
Weight – 8,214 lbs
Horsepower – 24.4hp
Digging Depth – 11'3″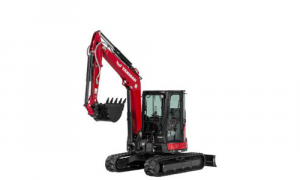 YANMAR VIO55 w/Thumb
Class: 11,819 LBS
details
Powerful, efficient, turbocharged 47.6-HP tier 4 final yanmar diesel engine
Easy-to-operate joystick controls
Spring steel cylinder rod guards and hose protection
4-pillar rops/fops canopy for safety
Integrated boom light protected from damage
Angled crawler frame reduces foreign matter build-up
Traveling alarm signals when machine is moved
Weight – 11,819 lbs
Horsepower – 47.6 hp
Digging Depth – 13'6″
Rental Rates Based On
8 hours day
40 hours week
176 hour calendar month
ADDITIONAL USAGE WILL INCUR OVERTIME CHARGES
Double Shift Rate = Standard Rate X 1.75
Triple Shift Rate = Standard Rate X 2.50
Prices Subject to Change Without Notice
All Rentals Qualify for Equity Builder Program
Rental Terms & Conditions
All rentals are subject to credit approval.
Rental rates are based on a single shift 8 hour day, 40 hour week and 176 hour month.
Double shifts are at 1.75 the single rate, triple shifts are bill at 2.50 the single shift rate.
Customers are responsible for all consumables such as; fuel, lubricants, filters, ground engaging tools (teeth, cutting edges, breaker chisels, etc), tire wear.
Customer shall maintain the machine by performing the prescribed daily machine inspections and maintenance.
Customer is required to carry adequate Physical Damage and Liability Insurance listing Rasmussen Equipment Company as additional insured. Certificate of Insurance must be on file at Rasmussen Equipment Company.
Customer is expected to use the machine in safe manner. Customer shall provide qualified operators who are trained in proper operating procedures. The customer must also ensure that the machine's safety features such as back-up alarms, ROPS, etc., remain in proper operating condition while in customers possession.
Customer is responsible for excessive wear or damage to machine such as broken glass, lights, bent or dented sheet metal, cylinders, tires, operation instruments, etc.
Rental rates do not include any applicable taxes or permits.
Customer responsible for all transportation charges. FOB Salt Lake City.