If you're a construction manager looking to rent a demolition robot your for a project, you've come to the right place. We've got two of the most versatile demolition robots on the market, and we have a selection of different attachments for each robot that expands their demolition capabilities. Our selection includes the Husqvarna DXR 300 and the Husqvarna DXR 140 rentals. Take a closer look at each one below to determine which demolition robot would be best for your rental needs.
Demolition Robot Rentals
Rasmussen offers premium demolition robot rentals in Utah with rental plans that span either one day, one week, or one month. The robot attachments can be rented for the same time periods, so you'll be sure to get all the work done that you require. 
It can be difficult to decide which demolition robot type is best for your project. If you need more compact flexibility, the DXR 140 is probably the right choice, but if you need pure power that isn't as concerned with fitting in small spaces, the DXR 300 is for you. If you're not sure which type you need for your demolition project, our team can assist you with choosing the right one for your specific needs.
Robot Makes & Models

day

week

month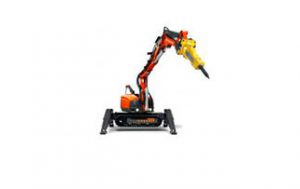 HUSQVARNA DXR300
Class: N/A
details
Husqvarna DXR 300
The Husqvarna DXR 300 is a robust demolition robot rental that functions entirely via remote control. When combined with the power of the SBU 340 or SBU 160 breaker, these robots are impressive in terms of power-to-weight ratio. The 31" machine width allows it to squeeze through standard doorways with ease. Because of this freedom of movement, there are tons of opportunities to take advantage of the power of this robot.
The robot arm can reach impressive distances, and it can precisely place the tool exactly where it needs to be for maximum efficacy. Minimal service is required to keep the device running smoothly. It features individually-controlled outriggers, and they work in tandem with the wide footprint of the robot to offer enhanced stability, which in turn provides more potential for work.
Both the construction and process industries could benefit from using the DXR 300 for demolition. We also carry a number of different attachments for the robot, including breakers, cutters, crushers, and more. This unit is available for rent, sale or rental purchase from Rasmussen Equipment.
Features
204.72-inch vertical reach
192.91-inch horizontal reach
Highly efficient in harsh environments
Premium impact force when used with a breaker attachment
Precise hardware and software
High power-to-weight ratio
360-degree rotating arm
Automatic breaker greasing
Specifications
Battery Type: Lithium-Ion
Battery Capacity: 2.25 Ah
Hydraulic Oil Flow Rate: 20 gal/min
Max Hydraulic Pressure: 3626 PSI
Hydraulic Pump Type: Load-sensing axial piston w/ variable displacement
Wireless Transmission Range: 100 m
Robot Length: 111 in
Robot Width: 31 in
Robot Height: 54 in
Robot Weight: 4302.99 lbs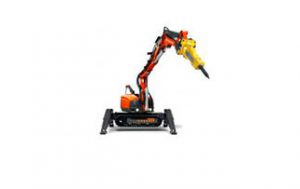 HUSQVARNA DXR140
Class: N/A
details
If you need a compact demolition robot rental that has a full 360-degree range of motion, the Husqvarna DXR 140 is the best remote-controlled solution on the market. It outputs 15 kW of power and has little overall weight compared to other demolition robots in the same class. The design of this robot is specifically engineered to help with demolition in small spaces with little area for movement. While fitting into these spaces with maneuverability and grace, this robot still provides exceptional demolition potential.
Suitable for both the construction and processing industries, the DXR 140 offers versatility, durability, and precision. We not only rent and sell these wonderful demolition robots, but we also carry a range of attachments that work with the robot to maximize demolition. These tools include many of the same types of attachments designed for the DXR 300.
Features
173.23-inch vertical reach
145.67-inch horizontal reach
360-degree rotating arm
World-class power-to-weight ratio
Compact design
Fits through normal doorways
Intuitive remote controls
Automatic breaker greasing
Excellent stability
Safe operation
Specifications
Battery Type: Lithium-Ion
Battery Capacity: 2.25 Ah
Hydraulic Oil Flow Rate: 14 gal/min
Max Hydraulic Pressure: 3262 PSI
Hydraulic Pump Type: Variable load-sensing axial piston
Wireless Transmission Range: 328 f
Radio Variety: Class 1 Industrial Bluetooth
Robot Length: 76 in
Robot Width: 30 in
Robot Height: 48 in
Robot Weight: 2171.52 lbs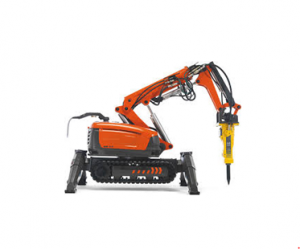 HUSQVARNA DXR310
Class: DXR310
details
DXR 310 is Husqvarna's most powerful remote-controlled demolition robot rental with a telescopic arm, extending the reach for flexible set-up. With low weight and compactness it delivers an impressive 29.5 horsepower, making it ideal for efficient demolition in tough environments. The individually controlled outriggers, combined with a large footprint provide superior stability which enables high workload. The Husqvarna DXR 310 is a versatile machine for both the construction and process industry. We have a variety of attachment like hammers or our compact and versatile crushers and steel shearer.
Features
216-inch vertical reach
204.72-inch horizontal reach
360-degree rotating arm
High-Precision Telescopic Arm
World-class power-to-weight ratio
Compact design
Fits through normal doorways
Intuitive remote controls
Automatic breaker greasing
Powerful LED Lights
Excellent stability
Safe operation
Specifications
Battery Type: High-capacity Li-ion
Battery Capacity: 1600mAh
Power: 22kW/29.5 hp
Flow50/ 60Hz, l / min: 75
Hydraulic Pump Type: Variable load-sensing axial piston
Terminal: Portable remote control
Radio Variety: Class 1 Industrial Bluetooth
Range, radio: Up to 100m
Robot Length: 81 in
Robot Width: 31 in
Robot Height: 418 in
Robot Weight: 4321 lbs
Demolition Robot Benefits
Some demolition projects are too dangerous for workers to perform safely using traditional demolition equipment. If your demolition job requires working in potentially dangerous areas, it's better to skip the excavator and use a demolition robot instead. Husqvarna's line of remote-controlled demolition robots makes quick work of even the toughest demolition jobs—and keeps your workers away from danger. Other benefits Husqvarna's demolition robots provide include:
Improved Safety.

Structure collapses, falling debris, and other safety hazards are everywhere on a demolition site. Every Husqvarna demolition robot is equipped with a remote control operation system, allowing operators to do the work from a safe distance and away from potential site dangers.
Increased Productivity.

Husqvarna's functional demolition robot design and innovative engineering allow the robot to move into position quickly and with little advance preparation. This allows projects to move more efficiently and get the job done on time. 
Financial Savings.

Labor is always one of the biggest financial costs of any construction or demolition project. Using a demolition robot can significantly reduce labor costs and improve your project's profitability. 
Increased Precision.

With a superior power-to-weight ratio, adjustable hydraulics, and fully individual control of arm and outrigger cylinders, Husqvarna's demolition robots can tackle difficult jobs with precision.
Versatile Operations.

The narrow width, low height, and low center of gravity on all Husqvarna demolition robots allow access to difficult-to-reach areas and dangerous terrain with ease. Husqvarna also offers a wide range of attachable tools to assist in every type of demolition project.
Contact Rasmussen Today For a Quote
From top-of-the-line demolition robots to high-strength wire rope, Rasmussen can provide the equipment you need for any type of construction or demolition project. If you're unsure what tools and accessories you'll need for an upcoming demolition job, our team at Rasmussen is always happy to answer any questions you have. Call our team today at (801)-972-5588 for a rental quote or for more information on our available equipment.
Rental Rates Based On
8 hours day
40 hours week
176 hour calendar month
ADDITIONAL USAGE WILL INCUR OVERTIME CHARGES
Double Shift Rate = Standard Rate X 1.75
Triple Shift Rate = Standard Rate X 2.50
Prices Subject to Change Without Notice
All Rentals Qualify for Equity Builder Program
Rental Terms & Conditions
All rentals are subject to credit approval.
Rental rates are based on a single shift 8 hour day, 40 hour week and 176 hour month.
Double shifts are at 1.75 the single rate, triple shifts are bill at 2.50 the single shift rate.
Customers are responsible for all consumables such as; fuel, lubricants, filters, ground engaging tools (teeth, cutting edges, breaker chisels, etc), tire wear.
Customer shall maintain the machine by performing the prescribed daily machine inspections and maintenance.
Customer is required to carry adequate Physical Damage and Liability Insurance listing Rasmussen Equipment Company as additional insured. Certificate of Insurance must be on file at Rasmussen Equipment Company.
Customer is expected to use the machine in safe manner. Customer shall provide qualified operators who are trained in proper operating procedures. The customer must also ensure that the machine's safety features such as back-up alarms, ROPS, etc., remain in proper operating condition while in customers possession.
Customer is responsible for excessive wear or damage to machine such as broken glass, lights, bent or dented sheet metal, cylinders, tires, operation instruments, etc.
Rental rates do not include any applicable taxes or permits.
Customer responsible for all transportation charges. FOB Salt Lake City.