Why choose sennebogen?
SENNEBOGEN material handlers are specially designed to deal with demanding material handling. They stand out for their high performance, reliability and high levels of safety.
The material handlers can be adapted to meet customer-specific requirements with modular undercarriage solutions (mobile, crawler, stationary, rail undercarriages and pylon options) for a wide variety of applications. Hydraulically elevating operator cabs provide the best view and high levels of comfort. With equipment lengths of up to 40 m, numerous attachments and quick change systems, the machines are very versatile (orange peel grab, clamshell grab, magnet system, scrap shears, vacuum crossbeam). In addition to modern stage V engines, we offer a range of solutions, such as our energy recovery system, SENNEBOGEN Green Hybrid, or the efficiency package, SENNEBOGEN Green Efficiency, which reduce operating costs and exhaust emissions.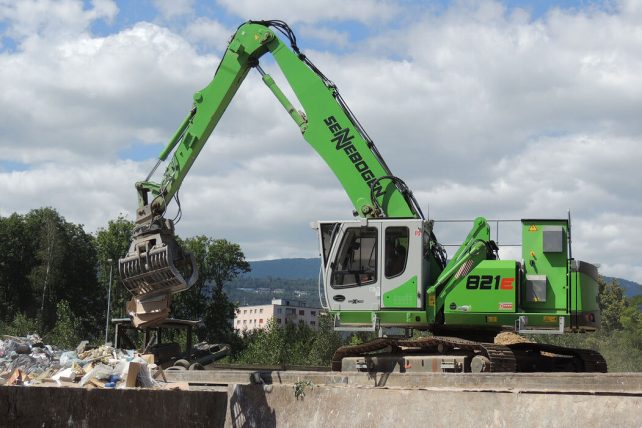 What buyers are saying
UMW made the move to SENNEBOGEN material handlers 12 years ago, when the company modernized its busy 10 acre, mostly non-ferrous metal scrap recycling yard in Salt Lake City. "We went with SENNEBOGEN for a couple of reasons: One, access to some of the most common part that typically fail, like hoses and fittings, and the accessibility to easily change in and out those parts. Second, we had a longstanding relationship with Rasmussen Equipment wich sells and services SENNEBOGEN equipment here locally", says Lewton (UMW co-owner). "We thought that the service and having ready access to parts through a local dealer would be advantageous to us long term"
With its fourth SENNEBOGEN, Utah Metal Words made the move from the 52,800 lb, 821 M machines to the beefier 64,250 lb, 825M. The larger machine offers more reach and lift capacity, yet maintains the maneuverability required on the compact Salt Lake City site.
Rental Terms & Conditions
All heavy equipment rentals are subject to credit approval.
Rental rates are based on a single shift 8 hour day, 40 hour week and 176 hour month.
Double shifts are at 1.75 the single rate, triple shifts are bill at 2.50 the single shift rate.
Customers are responsible for all consumables such as; fuel, lubricants, filters, ground engaging tools (teeth, cutting edges, breaker chisels, etc), tire wear.
Customer shall maintain the machine by performing the prescribed daily machine inspections and maintenance.
Customer is required to carry adequate Physical Damage and Liability Insurance listing Rasmussen Equipment Company as additional insured. Certificate of Insurance must be on file at Rasmussen Equipment Company.
Customer is expected to use the machine in safe manner. Customer shall provide qualified operators who are trained in proper operating procedures. The customer must also ensure that the machine's safety features such as back-up alarms, ROPS, etc., remain in proper operating condition while in customers possession.
Customer is responsible for excessive wear or damage to machine such as broken glass, lights, bent or dented sheet metal, cylinders, tires, operation instruments, etc.
Rental rates do not include any applicable taxes or permits.
Customer responsible for all transportation charges. FOB Salt Lake City.